Custom Bandanas
Create your own bandana here
Bandana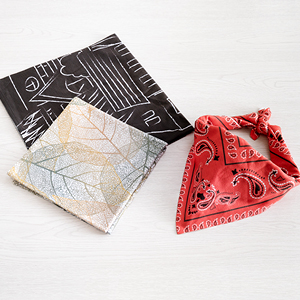 personalised bandanas are great for party wear, athletes, bachelor parties, bachelorette parties, camps, company team building events, family reunions and group holidays.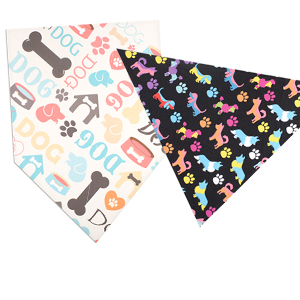 Special triangle and pentagon shaped dog banners for your favourite four legged friend to wear. Comes in a variety of sizes.
or choose from our categorised designs to start personalising:
Design your own bandana
Custom Bandanas are a versatile and easy way to add some colour and flair to your outfits, not to mention extremely practical. Bandanas has many uses including functioning as a handkerchief, headscarf, first aid sling or sun protection, the uses are only limited by the imagination. Design your own awesome graphic, pattern in any way or colour you like and upload to our easy to use builder to have them printed. They make a very memorable and special gift or you can use them to spice up any event or occasion such as bachelor or bachelorette parties, company events, family reunions and hiking teams.
Bandana specifications:
Size Option: 55.9 cm x 55.9 cm, 50.8 cm x 50.8 cm, 45.7 cm x 45.7 cm, 35.6 cm x 35.6 cm (promotional bandanas or Bandana Handkerchief)
Dog bandana provide shape option of triangle and pentagon in three size option. Small 50.8 cm x 35.6 cm x 35.6 cm | Medium 71.1 cm x 50.8 cm x 50.8 cm | Large 78.7 cm x 55.9 cm x 55.9 cm
Your print will cover the front side of the bandanas
Material: 100% spun polyester
Customised with edge to edge deep full colour print with your images, designs, and text
Bad hair day or just want to add an edge to your outfit? Custom bandanas are thing for you. They can be used as a headscarf, handkerchief, neckerchief...and well anything else you can think of
Custom bandanas make your special occasion extra memorable when you gift your guests with it. Personalised bandanas are great for party wear, athletes, bachelor parties, bachelorette parties, camps, company team building events, family reunions and group vacations
All over print full colour bandanas are great birthday gifts and holiday gifts