Personalised Aprons with Printed Photo
Create your own kids or adult apron here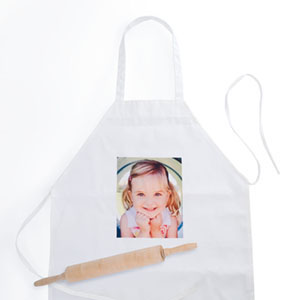 Fun and fantastic aprons to put images of your favourite chef onto.
Personalise an apron and have names or initials embroidered in a color of your choice. The perfect gift for someone who loves to cook!
Apron Gift Set
(small & large)
as low as @currencysign15.99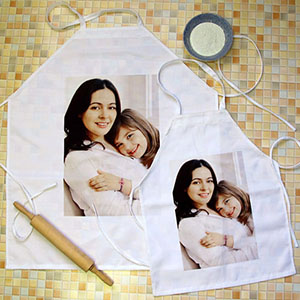 Choose our adult and kids matching apron gift set.
or choose from our categorised designs to start personalising:
Design your own photo aprons or embroidered aprons for people of all ages
Whether you're a professional chef, the main chef at home, a gardener or baker, an apron is always necessary in the kitchen or in the garden to help avoid stains, dirt and spillages transferring onto your clothes whilst you're cooking up a meal or tending to your garden.
Our classic unisex aprons are functional yet look professional and sophisticated. You can personalise your aprons with a full colour print photo of your choice to make cooking time fun and enjoyable or for a more elegant choice; you can have your custom apron embroidered with a name or initials professionally embroidered in your favourite colour. The personalised aprons are family friendly as we offer a gift set featuring a custom apron in a large size and a small size so family members of all ages, we have adult sizes and kid sizes so both adults and kids can wear their own apron when cooking together. Each family member can have their photo printed in sharp and vivid colours or have their name embroidered onto the front of the apron so everyone at home can have their own personalised apron especially designed for them! Our aprons aren't only great for home use, but they also make sophisticated work uniforms for chefs working in restaurants, as a private chef or caterers at events. Each chef can have their name embroidered onto the front of the apron for individual recognition and the customised aprons can help promote and represent your company or yourself as a professional chef and give a professional outlook for your customers and clients.
Our aprons don't just look the part, they are very functional too. Our classic apron features a waist tie and neck strap for quick removal or placing on and with two large front pockets so you can place any recipes, ingredient lists, utensils or cookery equipment for quick and easy access. The embroidered apron comes in 5 different colours and made with durable, stain resistant and easy-to-clean white polyester – our aprons are sure to be a welcome addition to passionate chefs.
Using our quick and easy online apron maker, you can create your own aprons for yourself, professional chefs in your company or as a gift for friends and family who love to cook, bake or do some gardening. They are great for professional use, personal use or as a gift! So it's time to show the chef in your life how much you appreciate their passion for food – give them an apron with a personalised photo and special message now! We have no minimum required, so you can order your aprons in bulk or as little as one if required.